The breeze is cold, with no identifiable smells, it's pleasuring. The city looks beautiful, calm and the major intersections are the only places with lights. These huge flood-lights look like mere toothpicks from where I stand. The city looks like a collection of a kid's building blocks, organized as on a circuit board of some complex electronic device. I have seen this view multiple times, probably in every lighting condition that the eyes can perceive, yet, it looks especially mesmerizing right now. I stand on the visibly largest bridge crossing the Ganga river, marking the start of this holy city. The oldest bridge was replaced by the latest one. The double-decker bridge is barely visible which identified the city in films like Raanjhna. A train chugs through the bottom and some two-three people walk by on the top every few minutes. Dawn will break soon.
I stand here, after hours of trying to sleep. The breeze keeps pushing me back, tailwinds of trucks passing on the highway behind me keep thrusting me forward, and I keep swinging like a disoriented pendulum. I came here to see the end. Option 1: Fall on the bottom of the pillar, crack your skull, instant, and certain death.  Option 2: Fall in the water, I'm high enough for the surface tension to shatter my bones, I writhe in pain and eventually drown. Another possibility is I enter the water safe and sound, the cold water and strong current give me a long, slow and agonizing death, my body is found somewhere downstream. 
This is it, my dream of twelve years is finally becoming a reality. I climb and sit on the edge, anytime now.
"Hey, why are you here? What are you planning to do now?"
"I have seen it all, I have reached the tipping point of my life, it cannot get any better. I will jump and end it all."
"Yes, that's the best you can do, I mean, you being here or just disappearing, wouldn't make a difference in the grand scheme of things. Your existence is known to a maximum of a thousand people. About 500 remember that they met you. About a hundred remember you regularly. Some fifteen-twenty people care about your existence, only to eventually benefit from you. NO ONE ADORES YOU. It would be for the best for you and everyone around you if you died."
"Wait. You have so much to live for, didn't you want to go Bungee Jumping? You could do it if you didn't jump now."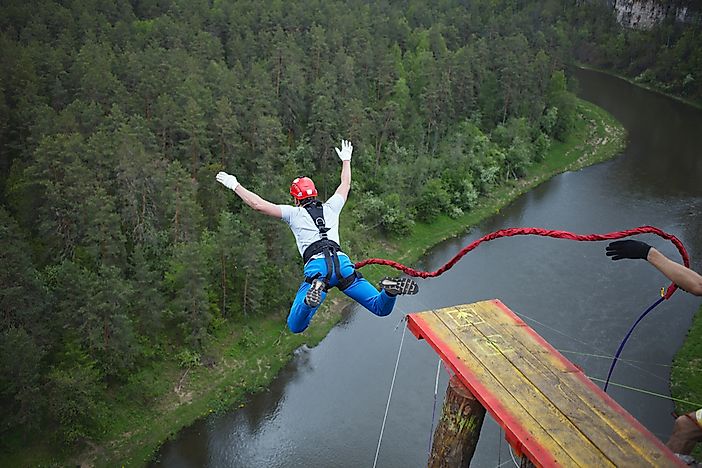 "This isn't much different though."
All three of us laughed as a tear rolled down my face.
"Yeah, that's true but you wanted to buy a car, raise a kid, live a happy life?"
"But isn't that inviting more trouble down the line? Every change brings discomfort."
"Exactly, right from choosing the pursuit of engineering. No, from choosing science. No, wait, from the first time I ever spoke, I have only invited trouble to myself and the people around me. My words, my actions, never solved anything, but definitely sprouted seeds for trouble."
"Yeah, and you were also responsible for 9/11, don't listen to him. You're doing good. You've got a healthy lifestyle, a stable job. You are who many aspire to be. You can do anything you want to."
"Haha, as if you've ever had anything in control."
"That's true, I have never had anything in my control. Isn't that the truth of the world? No matter what decision I make, it always has consequences beyond my control. What am I doing, where am I headed? I will never have the life I wanted. It is all pointless. I will never know what's next and uncertainty is never good. I can count the major events left in my life on the fingers of just one of my hands and most of them aren't happy ones."
"You can't end here. People look up to you. They tell their kids your story. Wouldn't you want that story to get better every time you meet them? Or do you want it to become a foreshadowing?"
"That is a part of the problem. I very much hate the life I have lived till now, I do not want anyone to follow my footsteps of all people."
"The underachiever, the meta of our generation. You are spitting on the greats by calling yourself one. You idiot, people your age are running corporations, changing the world and whatnot. You are the worst example to follow. You yourself don't want to be you. You are everything that's wrong with you."
"True, nothing I ever did has made a difference. My whole life has been a compromise. I have never had what I wanted. I was and never will be satisfied with what I have, and will live my entire life hustling for something better trying to unsuccessfully satiate myself. I do not want this. This is the worst part: I will never know what I truly want. What will make me full? A woman? A big home? Many big homes? Kids? Grandkids? Supercars? I guess I dreamed too big, haha. You get the gist." 
"Life is like a box of chocolates, you never know what you're gonna get. Not opening the box could be the biggest mistake you make. Walk back, and you can set a better example than the one you would if you jumped."
"Haha, a box of chocolates can't have ice creams or potato chips. I know where my life is headed, the last time I got a surprise gift was in sixth grade when my parents got me a digital camera for my birthday. There haven't been any welcomed surprises after that. My life is not a movie, if I jump down and swim to the next town, they wouldn't cover me in papers. They would put me in an asylum."
"That reminds me, your birthday is coming up. Let's postpone this ordeal until that day, the sun is up too. You do not deserve a release so soon, you should suffer more. Wouldn't it be poetic to do it that day?"
"Yeah, not knowing what to do when they sing happy birthday would be the best torture. How bothersome, I loathe that day. I have to pick my own gift, sometimes I pick it months before or after, depending on when I need something. I have to plan a party for a bunch of ungrateful nobodies, who would dissolve in the crowd as soon as the party's over. Leaving a debt to be fulfilled only on their birthdays."
"Hey, you came here to celebrate that. A birthday with your parents after 4, maybe 5 years."
"Yeah, let's call today a trial run for what we will do on that day. Everyone will be tired from the party, it would be easier to escape."
"Yeah, let's head back."
The sun shines from way above the horizon. People have started their days. Cattle owners, taking their herds of buffaloes to pasture. Milkmen cycling with huge tin containers on either side of the bicycle, headed to deliver or sell it at the "Satti". Dust flows as school buses and vans rush on the roads to force start the dozy kids' day. "You coward." 
I put my head down. My cheeks keep getting wet, my breath keeps pacing and I blame it all on the dust. No one turns their head, ever. "They all have their problems to deal with, not everyone is as weak or has the time to lament over such issues." The same sound keeps screaming at me on my way back. "You coward, you'll never have the courage to do what you want. You can't even JUST DIE. People work very hard to live and your puny, pathetic self can't even do that. You can never be happy for you will NEVER BE SATISFIED."
I reach home, wipe the mix of dew, dust, sweat, and tears off my face. Maa sips her daily tea while watching the headlines. Advertisements start, and she changes to some religious channel as I walk in. 
"Where were you?" She asks.
I don't have an answer, I stay silent for a moment, it always makes me look like an intellectual who knows what he is going to say. I answer, "I was just…"